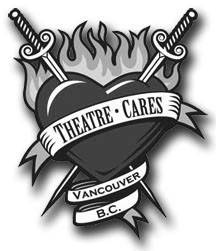 Theatre Cares Vancouver has raised over $30,000 in support of AIDS Vancouver, Positive Living BC, the Actors' Fund of Canada, the Performing Arts Lodge which provides safe and affordable housing for people in the creative community, and the Stephen Lewis Foundation, an organization dedicated to the relief of the HIV/Aids pandemic in Africa. Each of these charities will receive support from Theatre Cares. This is thanks to The Arts Club Theatre and Bard on the Beach, whose patrons gave generously.
Finding money to keep much-needed programs going is not the only obstacle in the fight against HIV/AIDS. Education appears to be sorely lacking as well. The Canadian AIDS Society has reported that a large number of youth believe there is not only a cure for HIV/AIDS, but there is also a vaccine available to prevent HIV infection. There isn't.
Theatre Cares Vancouver has been raising funds and awareness since 1991.
Without the generosity of the theatre patrons and the support of local theatre companies, both large and small, Theatre Cares would not be able to do the work that it does. Our fundraising over the years has benefited PAL Vancouver, the Coast Foundation, Triage Emergency Services & Care Society, Camp Moomba, PEERS Vancouver, Electric Company and the Positive Women's Network, a partnership of women living with HIV/AIDS in British Columbia.
Theatre Cares Vancouver is a volunteer-based organization that unites the generous spirit of Vancouver's performing arts community with its supporters to raise funds and awareness for HIV/AIDS relief and other worthy causes.
For more information, please contact:
Diane Brown,
Chair, Theatre Cares Committee
diane@rubyslippers.ca